Jones to operate Fort Dodge dirt track, fly USRA banner in 2020
February 22, 2020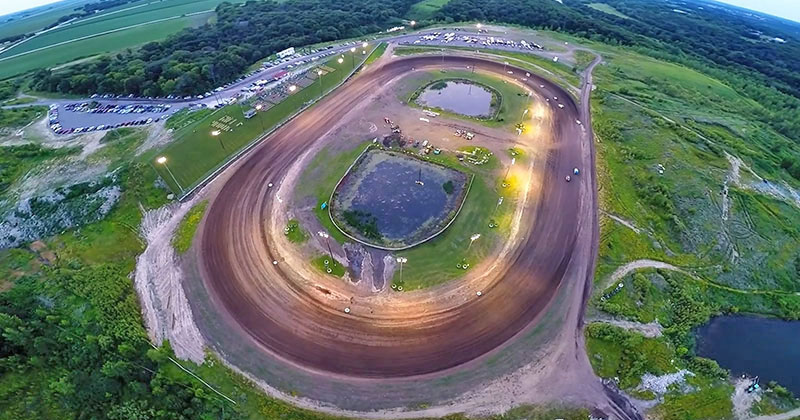 If there's one thing that Andy Jones knows a thing or two about it's dirt, so it's fitting that he has signed an agreement to become the new promoter of the half-mile dirt oval in Fort Dodge, Iowa, currently known as Sports Park Raceway.
"We are committed to making this a long-term relationship and building a family-oriented entertainment facility with a fun atmosphere," said Jones. "Our number one goal is for our racers, fans, sponsors and employees to have fun. We plan to meet that goal and then some."
Jones has raced in Econo Stocks, Hobby Stocks and B-Mods from 1999 to 2008 and then went on hiatus to spend time with his children and stay involved in their sports activities. He returned to the cockpit in 2019 behind the wheel of a USRA Stock Car.
Besides competing, the past two seasons has seen Jones's company perform major dirt work projects at the Mason City Motor Speedway and Hamilton County Speedway in Webster City.
As the owner of Jones Rock & Dirt in nearby Webster City, along with his wife Amanda, Jones noted that the agreement will see his team manage the weekly operations of the facility through the end of 2024.
"Just a few of the items we have already begun planning for include bringing in new dirt, which is desperately needed now," Jones added. "That will happen before the next racecar hits the surface, as well as the installation of a MyLaps transponder system.
"We have a lot of new things in store for the speedway and it all takes time and money. We have put together a to-do list in order of importance and will address the issues as they need to happen and as soon as we can get them done.
"I've been pretty humbled by the tons of community and racer support for our decision to take on the operations of the facility. I am honestly amazed with the number of people who have offered to help."
A water supply is also on the short-term list of improvements to help with multiple services at the track, not the least of which is upgrading the women's restrooms. Reconfiguring the track, VIP booth(s) for sponsors and local businesses, expanding the pit area, updating the grandstands, adding camper hook-ups and going wireless are among the positive changes on the horizon.
With new blood and a new vision, the track will get a new name for the 2020 racing season and will stage weekly races on Friday nights while racers will enjoy a vastly increased points funds as part of the Summit USRA Weekly Racing Series.
"We looked at what our neighbors are doing and we feel Todd and Janet Staley have done an amazing job at the Hamilton County Speedway in Webster City," Jones said. "This will give racers a Friday night track here in Fort Dodge with USRA racing in Webster City on Saturdays and Mason City on Sundays. With the superior rules package and stellar points funds as compared to the alternative, there really was no other choice for us."
The track will feature the same Summit USRA Weekly Racing Series classes as the Hamilton County Speedway: Modifieds (alternative rules), Stock Cars, B-Mods, Hobby Stocks and Tuners. Special events featuring other classes, an enduro, a demo derby, trailer races, ATV/UTV races and maybe even some concerts are all part of the world of possibilities.
A full schedule will be released in the days to come. A new website and social media platforms are all on their way over the next couple of weeks too, Jones added.
The track is located 0.9 mile north of US 20 on US 169, then 0.5 mile east on 230th in Fort Dodge, Iowa. If you have any questions, call Andy Jones at (515) 297-4748 or email jonesrockanddirt@gmail.com.
To learn more about the United States Racing Association, visit USRAracing.com. You can also like us on Facebook, visit us on Instagram, follow us on Twitter and watch us on YouTube. Keep up to speed with everything USRA and subscribe to the USRA e-Newsletter at USRAracing.com/subscribe.