Sports Park Raceway opens with a bang Friday
May 7, 2021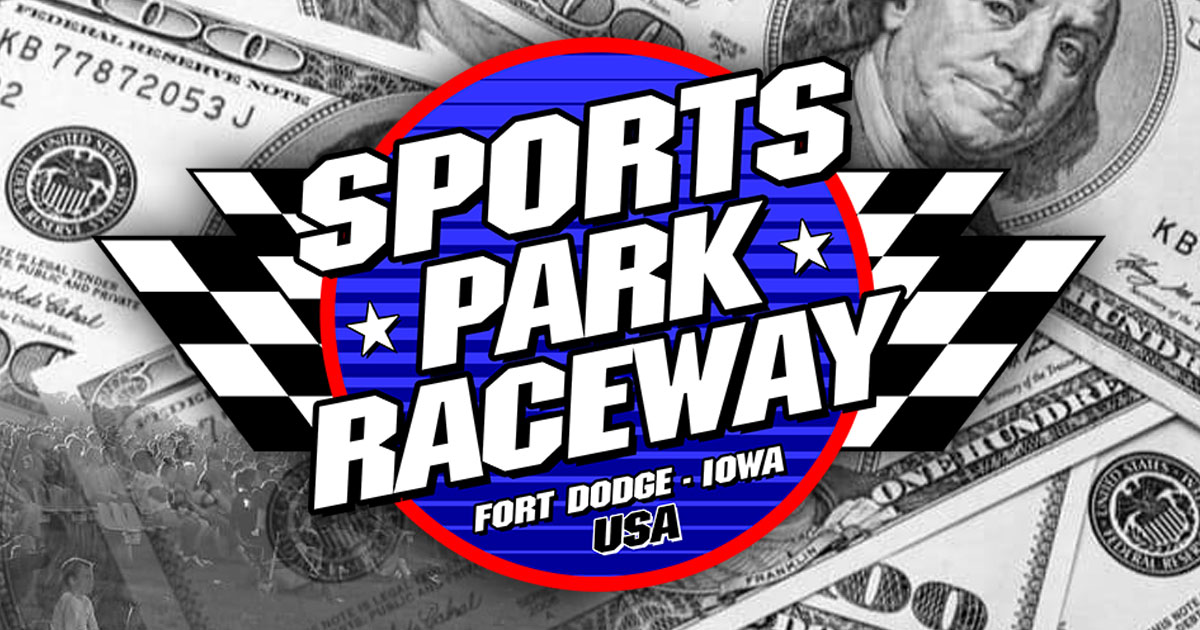 The Sports Park Raceway in Fort Dodge, Iowa, opens with a bang on Friday, May 7, with big money on the line for competitors and five divisions of dirt track awesomeness awaiting race fans.
Friday's Summit USRA Weekly Racing Series 2021 season opener will feature United Plant Services USRA Modifieds, Marsh Concrete USRA Stock Cars, On The Go Lock & Key USRA B-Mods, Pickett Salvage USRA Hobby Stocks and Matt's Tire Service USRA Tuners.
All classes seeing big increases in the regular weekly payouts thanks to a flurry of sponsors throwing their support behind it all.
The winner of the Stock Car main event will take home at least $1,000 at the end of Friday night's show. With at least 15 entries, Modifieds pay $700 to win, B-Mods are $550 to win, Hobby Stocks $500 to win and $250 awaits the winner of the Tuner feature race.
According to general manager Bryan Denekas, more than 22 entries in any class means that division's payout will increase the winner's share by $100 and an extra $20 to start for everybody in the class.
And don't forget, a huge two-track bonus with the Hamilton County Speedway in Webster City is back in place for this year's points funds, so all drivers are welcomed and challenged to come race for what you're worth and make a weekend out of it.
Each week we will put $200 in the purse and so will the Hamilton County Speedway. At the end of the season if you have had perfect attendance at both tracks the total pot will be split up between all of those who have made it to every race at both tracks.
TIMES
Pits open 4 p.m.
Grandstands open 5 p.m.
Drivers meeting 6:45 p.m.
Hot laps 7 p.m.
Racing 7:30 p.m.
TICKETS
Adults/Juniors (14+) $15
Military/Seniors (62+) $10
Youth (7-13) $7
Kids (Under 7) FREE
PIT PASSES
Pit Pass (15+) $35
Youth (7-14) $25
Kids (Under 7) FREE
The Sports Park Raceway is a half-mile semi-banked dirt oval located 0.9 mile north of US 20 on US 169, then 0.5 mile east on 230th in Fort Dodge, Iowa. The track location is 2298 S River Rd, Fort Dodge, IA 50501. To learn more, call (515) 571-4401 or visit us online at SportsParkRaceway.com and follow us on Facebook and Twitter.
= = = = = = = = = = = = = = =
SPORTS PARK RACEWAY MARKETING PARTNERS: A+ Auto Glass, AC Flooring, Access Audio & Accessories, Advance Auto Parts, Arnold Motor Supply, Curt Bacon Body Shop, Domino's Pizza, Doughty Auto, EXIT Realty Frontier, Hicklin Power Sports, Hiway Truck Equipment, Ja-Mar Drive In Restaurant, Jaeschke Trucking, JD's Tree Service, Johnson Family Auto, Kesterson Reality, Mark's Auto Mart, Marsh Concrete, Matt's Tire Service, Mechanico LLC, Mid Country Machine, Moore Bonding Company, NAPA Auto Parts, O'Reilly Auto Parts, On The Go Lock & Key, Peoples Credit Union, Pepsi, Platinum Construction & Demo, Rees Builders, Rees Truck & Trailer, Rides Bar & Grill, ShinyTop Brewing, Sparkle Car Wash, United Plant Services, Visions Auto Glass & Repair, White Transfer & Storage.