Bonus bucks dangle in front of Sports Park Raceway drivers
June 11, 2021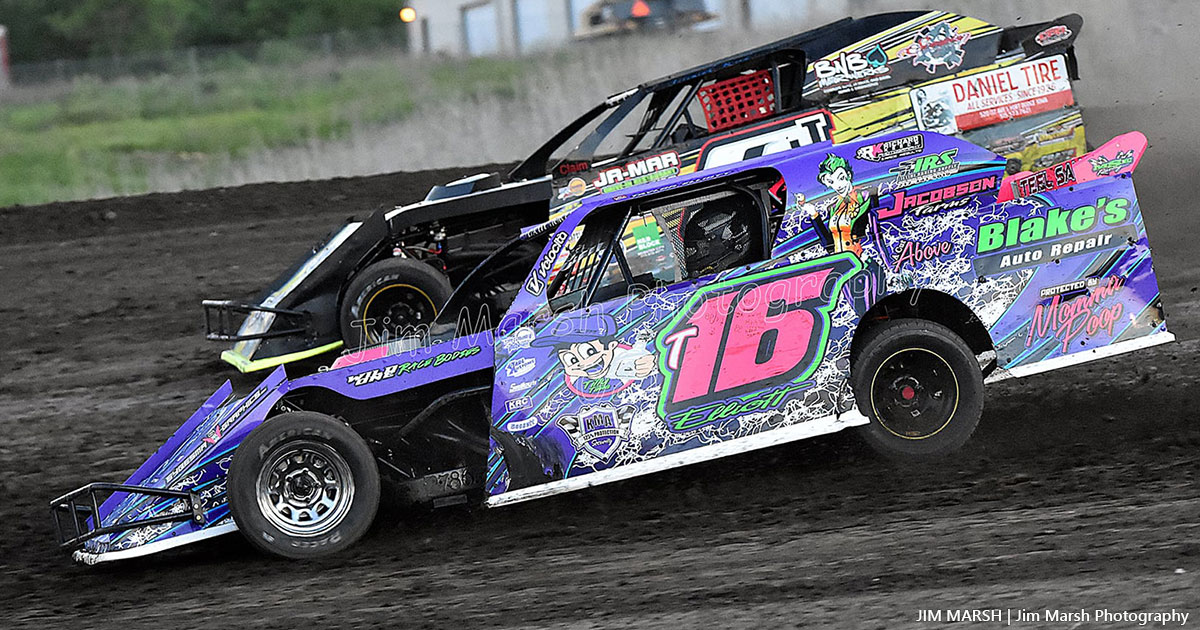 The Sports Park Raceway driven by Kemna Auto of Fort Dodge is back in action this Friday night, June 11, with big money up for grabs in several Summit USRA Weekly Racing Series divisions.
Extra cash on the line for the Pickett Salvage USRA Hobby Stocks with $100 added to each of the top five feature race finishing positions, courtesy of Jack Marsh.
Plus, track owner Jeff Frevert's Back Row Challenge is now $600 if any competitor in the Marsh Concrete USRA Stock Cars, On The Go Lock & Key USRA B-Mods or Pickett Salvage USRA Hobby Stocks accepts the challenge and parks it in victory lane.
The Back Row Challenge is offered to anybody in the main event redraw, so multiple drivers could accept the challenge. If there are 15 or more entries in the United Plant Services USRA Modifieds or Matt's Tire Service USRA Tuners, those classes will also be eligible for the Back Row Challenge. The $600 prize is posted for each class.
TIMES
Pits Open 4:00 p.m.
Grandstands 5:00 p.m.
Drivers Meeting 6:45 p.m.
Hot Laps 7:00 p.m.
Racing 7:30 p.m.
TICKETS
Adults/Juniors (14+) $12
Military/Seniors (62+) $8
Youth (7-13) $5
Kids (under 7) FREE
Pit Pass (15+) $30
Youth/Kids (under 15) $25
The Sports Park Raceway is a half-mile semi-banked dirt oval located 0.9 mile north of US 20 on US 169, then 0.5 mile east on 230th in Fort Dodge, Iowa. The track location is 2298 S River Rd, Fort Dodge, IA 50501. To learn more, call 515-571-4401, visit us online at SportsParkRaceway.com and follow us on Facebook and Twitter.
= = = = = = = = = = = = = = =
SPORTS PARK RACEWAY MARKETING PARTNERS: Kemna Auto of Fort Dodge, United Plant Services, Marsh Concrete, On The Go Lock & Key, Pickett Salvage, Matt's Tire Service, 2 Broke Customs, A+ Auto Glass, AC Flooring, Access Audio & Accessories, Advance Auto Parts, Al's Auto Repair, Arndt's Auto & Diesel Repair, Arnold Motor Supply, Auto Drive, Curt Bacon Body Shop, Daniel Tire Corporation, DG Construction, Domino's Pizza, Doughty Auto, EXIT Realty Frontier, Farrand Auto & Paint, Fishel Autobody & Paint, Flooring America, Fort & Schlegel CPA PC, Fort Dodge Ford & Toyota, Fort Dodge Transmission, Gypsum Hollow Services, Hicklin Power Sports of Grimes, Hiway Truck & Trailer, Ja-Mar Drive In Restaurant, Jaeschke Trucking, JD's Tree Service, Johnson Bros Snow & Mow, Johnson Family Auto, Kesterson Realty – Todd McCubbin, Leroy's Auto Sales & Service, Lone Tree Diesel & Lift, MAC Tools, Mark's Auto Mart, MC Mechanico, Midwest Fence & Gate, Moore Bonding Company, Mudjacking Solutions, NAPA Auto Parts, Northern Lights Distributing, Northwest Bank, Oberg Freight Company, O'Reilly Auto Parts, Pederson Sanitation, Peoples Credit Union, Pepsi, Pringle Tyre & Auto Centre, Plain Metal Salvage, Platinum Construction & Demo, Port Neal Welding, RCA Benefits Agency, Rees Builders, Rees Truck & Trailer, Rides Bar & Grill, Ronconi Dental Clinic, ShinyTop Brewing, Sparkle Car Wash, Storm Lake Honda, Stumps Snow & Mow, Tim's Automotive Tinting, Vision Auto Glass Center, Webster Glass Company, White Transfer & Storage, Winkler Trucking.