$1,000 to top Pickett Salvage USRA Hobby Stocks July 28
July 25, 2023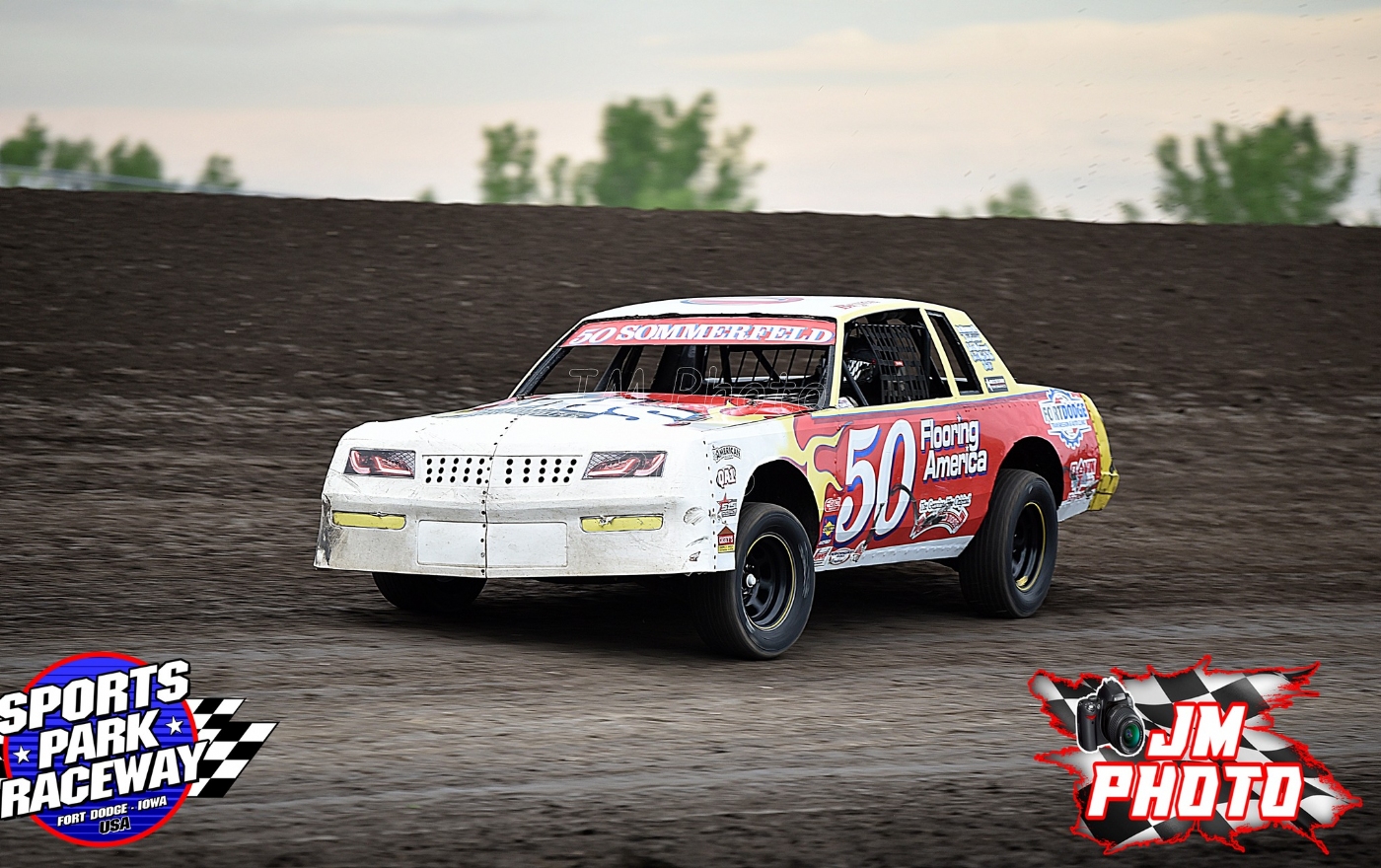 The Fort Dodge Ford Lincoln Toyota Sports Park Raceway is set to award the $1,000 top prize to the Pickett Salvage USRA Hobby Stocks this Friday July 28th.
One winner will pocket a cool $1,000 for the Hobby Stocks, and you got to believe it will be a showdown with this class. In four consecutive nights of racing action there has yet to be a new winner. Bryce Sommerfeld, Jeremy Crimmins, Riley Crimmins, and Dustin Gulbrandson have all collected a win at the Sports Park Raceway.
In addition to the Hobby Stock clash, the Sports Park Raceway will continue to run all 5 classes this Friday night along with the Karl's Chevrolet Dirt Trucks. A slobberknocker of a finish transformed the last time the dirt trucks were on the big half mile with Mason Mitchell picking up the win.
The current point leaders are as follows: Modifieds: Devon Havlik, B-Mods: Ty Griffith, Stock Cars: Myles Michehl, Hobby Stocks: Bryce Sommerfeld, Tuners: Tyler Crimmins.
We also have a tight battle going on in the King of the Park point standings thus far as well. Ty Griffith and Tyler Crimmins continue to lead the way with 158 points, and Bryce Sommerfeld in 3rd with 152 points. With big races continuing to happen at your Sports Park Raceway, be on the look out for some big shake ups in points.
Grandstands will be $12 for adults, $10 for Juniors/Seniors/Miltary and 11 & Under are free. $30 pit passes for drivers and $20 for youth. Hot Laps will kick off at 7pm with racing to follow.
For more information, contact Ryne Staley at (515) 297-3128 or Jeff Frevert at (515) 571-4401.
The Sports Park Raceway is located 0.9 mile north of US 20 on US 169, then 0.5 mile east on 230th in Fort Dodge, Iowa. To learn more, visit SportsParkRaceway.com or email sportsparkraceway@gmail.com. You can also follow us on Facebook and Twitter.
Coming in 2023: The Sports Park Raceway introduces the King of the Park. Who can put together an eight-race string of great runs to call themselves the King of the Park?
SPORTS PARK RACEWAY MARKETING PARTNERS: Fort Dodge Ford Lincoln Toyota, 2 Broke Customs, AC Flooring, Access Audio and Accessories, Alliance Sports Marketing, Archibald Electric, Arnold Motor Supply, Autodrive, Beisser Lumber Company, Big D's Diesel LLC., Curt Bacon Body Shop, Daniel Tire Corporation, DG Construction, Domino's Pizza, Doughty Auto, DP Customs, EXIT Realty Frontier, Farrand Auto & Paint, Fishel Autobody & Paint, Flooring America, Fort & Schlegel CPA PC, Fort Dodge Fiber, Fort Dodge Transmission, Gypsum Hollow Services, Hicklin Power Sports, Hiway Truck Equipment, Ja-Mar Drive In Restaurant, Jaeschke Trucking, JD's Tree Service, Johnson Bro's Snow & Mow, Johnson Family Auto, Kesterson Realty – Todd McCubbin, Leroy's Auto Sales & Service, Lone Tree Diesel & Lift, MAC Tools, Mark's Auto Mart, Marsh Concrete, Matt's Tire Service, MechaniCo LLC., Midwest Fence & Gate Company, Moore Bonding Company, NAPA Auto Parts, Northern Lights Distributing, O'Reilly Auto Parts, On The Go Lock & Key, Pederson Sanitation & Recycling, Peoples Credit Union, Pepsi, Pickett Salvage, Pingel Tyre & Auto Centre, Plain Metal Salvage, Platinum Construction & Demo, Port Neal Welding, RCA Benefits Agency, Rees Builders, Rees Truck & Trailer, Rides Bar & Grill, RockAuto.com, Ronconi Dental Clinic, ShinyTop Brewing, Sparkle Car Wash, Storm Lake Honda, Stumps Snow & Mow, Tim's Automotive Tinting, United Plant Services, Visions Auto Glass & Repair, Webster Glass Company, White Transfer & Storage, Winkler Trucking.