Chevrolet Performance adds horsepower to USRA, inks new three-year deal
February 24, 2023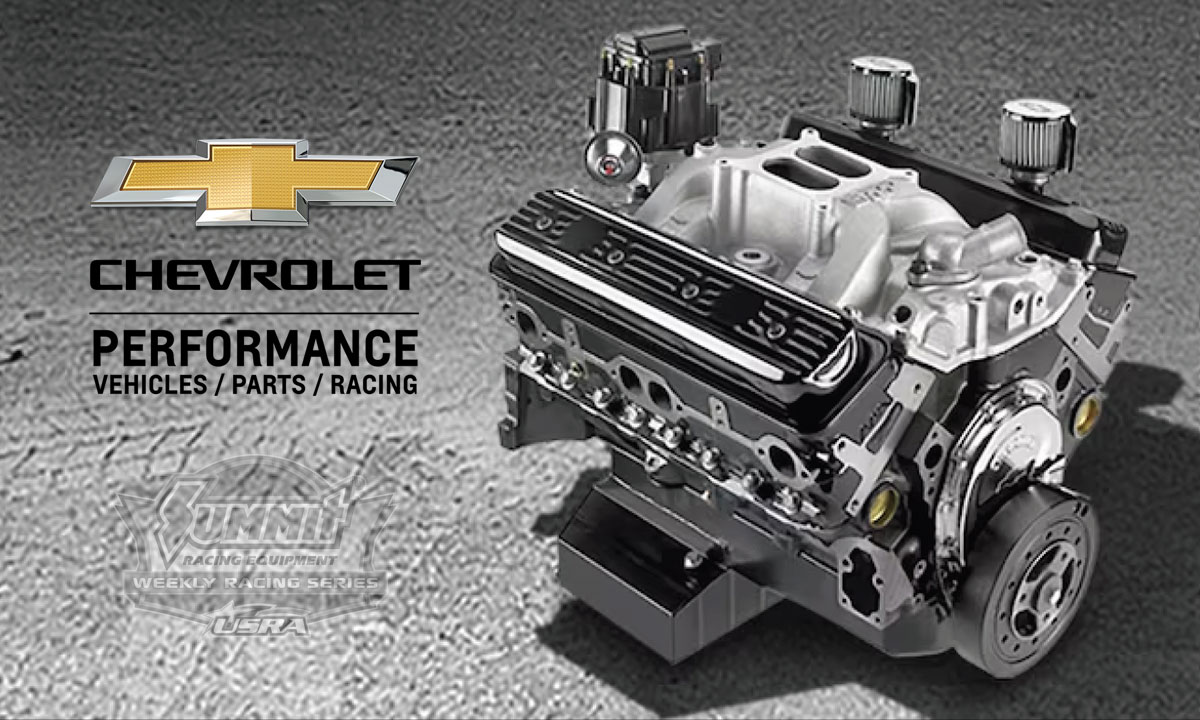 Officials from Chevrolet Performance and the United States Racing Association have signed a new three-year deal that will extend the partnership between the two companies through the end of 2025.
Continuing as the Official Crate Engine of the USRA, Chevrolet Performance will once again be supporting Summit USRA Weekly Racing Series racers by awarding new high-performance crate engines to three competitors at the season-ending awards banquet.
Chevrolet Performance will award two CT350 engines and one CT525 engine, along with padding the points funds for drivers in all USRA divisions. Engines will be shipped directly to local dealers for individual fulfillment.
Beginning a new tradition in 2023, Chevrolet Performance will be the presenting sponsor of the Summit USRA Nationals held at the Lucas Oil Speedway in Wheatland, Missouri, for the next three years as well.
The deep-breathing, high-revving CT525 6.2L crate engine (Part No. 19418211) is upgraded with forged aluminum pistons designed to support its performance and enhance its durability. It is based on the LS engine family and delivers serious power for serious racing series. The CT525 is based on the 6.2L LS3 and adapted to circle track racing with a carbureted intake manifold, a high-lift roller camshaft, six-quart racing oil pan and more.
The durable CT350 crate engine (Part No. 88869602) is the engine budget-conscious racers can depend on for competitive performance and low maintenance. The CT350 is based on their popular 350 HO high-performance street crate engine and features a strong four-bolt-main block, iron Vortec cylinder heads and a unique dual-pattern camshaft.
Chevrolet Performance fuels the passions of enthusiasts with factory-engineered and fully assembled crate engines, engine parts and vehicle accessories. Driven by the spirit of American ingenuity, Chevrolet is dedicated to challenging the limits of what's possible in automotive design and engineering today, tomorrow and for years to come.
Founded in 1911 in Detroit, Chevrolet is one of the world's largest automotive brands, doing business in more than 140 countries and selling more than 4.5 million cars and trucks a year. Chevrolet offers a comprehensive line of vehicles that feature spirited performance, expressive design, thoughtful technology, high quality and value.
To learn more about Chevrolet Performance, check out their website at chevrolet.com. You can get social with Chevrolet Performance on Facebook, Twitter, Instagram and YouTube.
Continuing to crush it: Year after year, the USRA continues to attract more racetracks and dirt track racers through fair, logical and cost-effective rules accompanied by an organization that puts the racers, racetracks and their fans first. In the 2022 Summit USRA Weekly Racing Series, more than 50 of America's finest dirt ovals host over 1,000 nights of racing.
USRA competitors can register online at MyRacePass today. Alternatively, you& can call (515) 832-6000 to register by phone, or submit a completed USRA License Application by email at office@usraracing.com or fax (515) 832-7958. You can download the application at usraracing.com/downloads.
To learn more, check out usraracing.com for schedules, points, photos, souvenirs, videos and more. Follow our social media channels on Facebook, Instagram, Twitter and YouTube. Click here to get USRA news delivered to your inbox.