Sports Park Raceway ready to rumble
May 27, 2020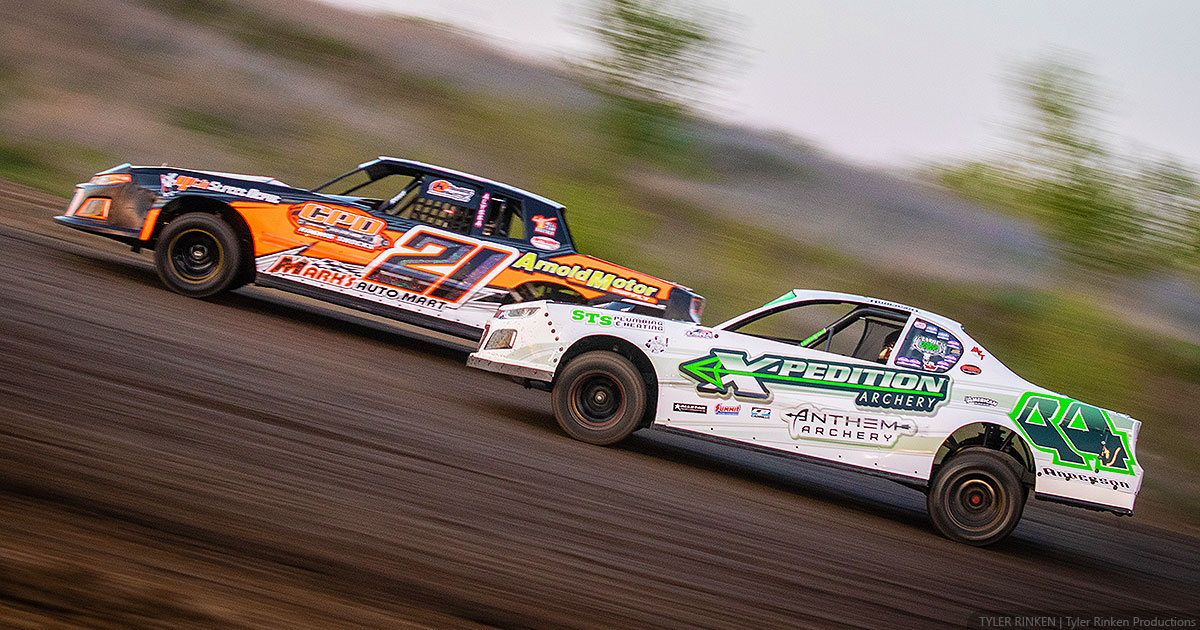 Officials from the Sports Park Raceway in Fort Dodge, Iowa, are escited to announce that some restrictions have been eased by the Iowa governor's office and we will be allowed to have 50% capacity in our grandstands beginning June 1, which we are pumped about.
However, racing returns for the third round of action this Friday, May 29. Grandstand seating will be closed but a limited number of personal vehicles will be permitted to park at the top of the grandstands. The cost is $10 per person. Each vehicle may have a maximum of ten (10) people and each person must stay with their vehicle. We will be offering food and beverage delivery to vehicles by simply calling and placing your order.
"So far we haven't missed a scheduled night due to the COVID-19 restrictions and it's not going too change now," said track promoter Andy Jones. "Our mission statement taking over this track was to provide great racing experience for the racers, crew members and, of course, the fans. We realize its not optimal not having the great fans in the stands but we also know our racers and crew want a place to race, which we have provided.
"We hope everyone can help support what we are doing as its not a great financial decision but it is what I feel is right. This will be the last week we have to deal with all these strict regualtions and hope everybody can support us for what we are doing."
Friday's Summit USRA Weekly Racing Series event will feature USRA Modifieds, USRA Stock Cars, USRA B-Mods, Pickett Salvage USRA Hobby Stocks and USRA Tuners. Mod-Lites will also be on the card. The Modifieds and B-Mods will compete under the USRA's "alternative" rules package for those divisions.
In addition to track and national points, the show will award points in the PBM Performance Products Northern Region in all USRA-sanctioned classes.
As of Thursday, several supporters have stepped up to sponsor added bonuses to the racers this Friday:
• Any class that has 15 or more enbtries, Todd and Janet Staley will add $100 to the purse with $25 to four random spots or two spots of $50. If a class can hit 20 cars, we will make it $200.
• An anonymous sponsor stepped forward to cover the first five cars that haven't raced at Sports Park Raceway this year. They will pay the entry fee and, if needed, the temporary USRA license.
• Jones Rock & Dirt will cover the next five entry fees and USRA temp licenses for new-comers.
• Suhr Boyz Racing has added $200 to the USRA Stock Car purse. You won't know what position(s) gets the money until the race has started. We will announce it after the cars get on the track for the feature.
• Pickett Salvage is putting up $100 to the highest finishing USRA Hobby Stock running street tires. They are also giving $50 to two mystery spots in the Hobby Stock class.
"Can't say enough how we appreciate the great people that step up to make this a great show," Jones added. "We love all the support we have got for Sports Park Raceway."
The pit gate will open at 3 p.m. with hot laps at 7 p.m. and racing to follow. All competitors must possess a USRA license or a $10 temp license paid at time of registration. You can purchase a USRA license at usraracing.com or bring $10 to the track for your temp license.
In accordance with national, state and local ordinances surrounding the COVID-19 pandemic, several rules and guidelines will be enforced and all participants must be aware of those guidelines. Social distancing measures must be conformed to. Any competitor or other participant failing to follow the posted guidelines will be disqualified from the event and asked to leave. The wearing of a protective face mask is strongly recommended but not required. If you are sick or not feeling well, please stay home.
The Sports Park Raceway is located 0.9 mile north of US 20 on US 169, then 0.5 mile east on 230th in Fort Dodge, Iowa. If you have any questions, visit SportsParkRaceway.com or email info@sportsparkraceway.com. You can also follow us on Facebook and Twitter.
To learn more about the United States Racing Association, visit USRAracing.com. You can also like us on Facebook, visit us on Instagram, follow us on Twitter and watch us on YouTube. Keep up to speed with everything USRA and subscribe to the USRA e-Newsletter at USRAracing.com/subscribe.