Sports Park Raceway returns with Elliott, Masters, Caudle, Stanton, Bryant on top
June 12, 2020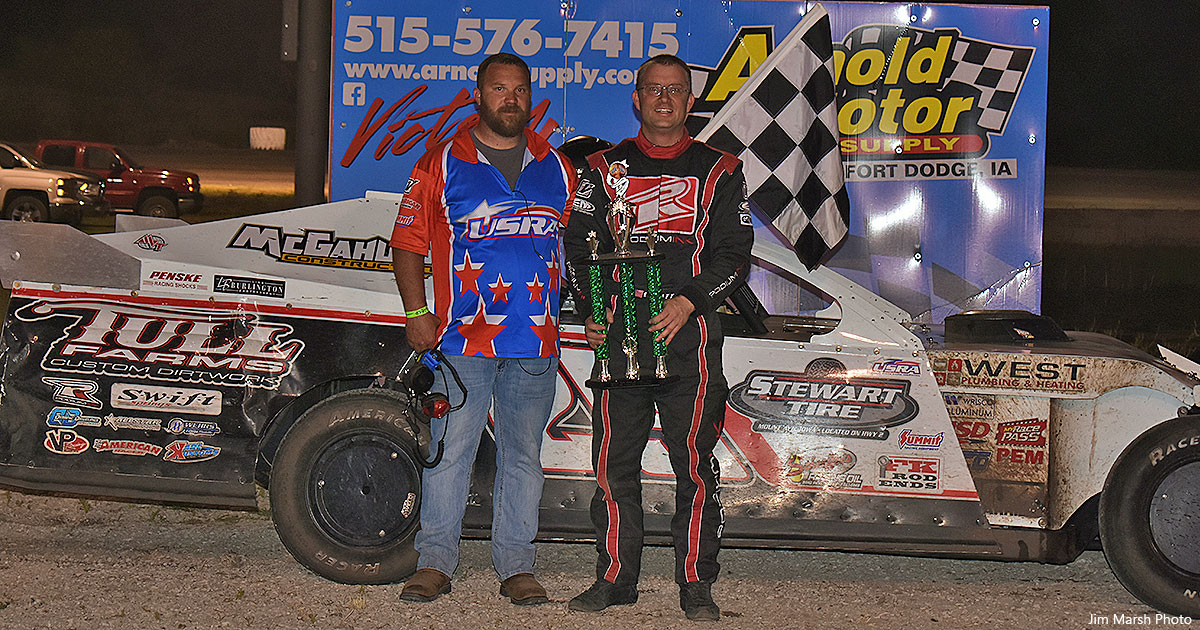 Dennis Elliott won the USRA Modified main event.
After a one-week hiatus, the Sports Park Raceway returned to action Friday for Round 4 of the Summit USRA Weekly Racing Series at the half-mile clay oval located just south of Fort Dodge, Iowa.
Friday night's action saw Dennis Elliott of Mt. Ayr make the long trip north to collect the top prize in the USRA Modifieds. Devon Havlik of Iowa Falls finished second, followed by Chase Ellingson of Williams, Jacob Murray of Hartford and points leader Duke Erickson of Sioux Falls, S.D.
Always an exciting division, the American Racer USRA Stock Cars saw a new winner too with Jake Masters of Graettinger holding off Bill Crimmins of Fort Dodge for the win. Travis Shipman of Mason City was third, Humboldt's Calvin Lange finished fourth and Jeff Lyon of Duncombe rounded out the top five.
Masters took home an extra $100 from Pingel Tyre & Auto Centre in Fort Dodge for his efforts.
Rocky Caudle of Ellsworth picked up the USRA B-Mod main event victory with hard-charging Ty Griffith of Webster City taking runner-up honors after starting 12th on the grid. Jason Bass of Fort Dodge, Levi Chipp of Latimer and ninth-starting Jared Timmerman of Norwalk completed the top three.
Caudle earned an extra $100 from Rees Truck & Trailer and another $100 from Platinum Construction & Demo for the win. Superfan Bob VanEvery and his fiancé added $20 the race's Hard Charger Award in the USRA B-Mod class.
Defending national champ Eric Stanton of Carlisle roared from the eighth starting spot to take the win in the Pickett Salvage USRA Hobby Stocks. Daniel Ayers of Webster City was second, Drew Barglof of Sioux Rapids took third, fourth went to Tyson Overton of Carlisle and polesitter John Ades of Rippey held on for fifth.
Mitch Frank with On The Go Lock & Key in Fort Dodge padded the USRA Hobby Stock purse with an extra $100 Friday night. Drivers finishing fifth through eighth each got $25.
USRA Tuner action saw former USRA national champion Ryan Bryant of Mason City get the win over Jade Lange of Humboldt while Matt Oberhelman of Fort Dodge took home third-place money. The rest of the top five were Marshalltown's John Gill and Michael Heun of Manson.
Each of the top four in the USRA Tuners got an extra $25 courtesy of Oberhelman Motorsports.
Racing is set to continue next Friday, June 19, with USRA Modifieds, USRA Stock Cars, USRA B-Mods, Pickett Salvage USRA Hobby Stocks and USRA Tuners in the spotlight for Round 5 of the Summit USRA Weekly Racing Series.
Once again, we can have 100% occupancy in the stands but we must ask all spectators to practice social distancing. Look forward to seeing all the fans back in the stands!
The Sports Park Raceway is located 0.9 mile north of US 20 on US 169, then 0.5 mile east on 230th in Fort Dodge, Iowa. If you have any questions, visit SportsParkRaceway.com or email info@sportsparkraceway.com. You can also follow us on Facebook and Twitter.
To learn more about the United States Racing Association, visit USRAracing.com. You can also like us on Facebook, visit us on Instagram, follow us on Twitter and watch us on YouTube. Keep up to speed with everything USRA and subscribe to the USRA e-Newsletter at USRAracing.com/subscribe.
= = = = = = = = = = = = = = =
OFFICIAL RESULTS
Sports Park Raceway, Fort Dodge, Iowa
Summit USRA Weekly Racing Series
Friday, June 12, 2020
Showing finishing position, starting position in parentheses, car number, driver and hometown.
USRA MODIFIEDS
Heat #1:
1. (2) 14E Chase Ellingson, Williams, Iowa
2. (6) 00J J.D. Auringer, Waterloo, Iowa
3. (1) 5D Devon Havlik, Iowa Falls, Iowa
4. (5) 57 Duke Erickson, Sioux Falls, S.D.
5. (4) 3W Garett Wilson, Carlisle, Iowa
6. (3) 2 Jerid Ratzke, Williams, Iowa
Heat #2:
1. (2) 48J Jacob Murray, Hartford, Iowa
2. (6) 8X Scott Olson, Blairsburg, Iowa
3. (1) 45H Jason Hickingbottom, Duncombe, Iowa
4. (5) 29 Dennis Elliott, Mt. Ayr, Iowa
5. (4) 00 Tristan Vesterby, Webster City, Iowa
6. (3) 75 Greg Elliott, Webster City, Iowa
Feature:
1. (4) 29 Dennis Elliott, Mt. Ayr, Iowa
2. (2) 5D Devon Havlik, Iowa Falls, Iowa
3. (6) 14E Chase Ellingson, Williams, Iowa
4. (3) 48J Jacob Murray, Hartford, Iowa
5. (5) 57 Duke Erickson, Sioux Falls, S.D.
6. (8) 00J J.D. Auringer, Waterloo, Iowa
7. (12) 75 Greg Elliott, Webster City, Iowa
8. (9) 3W Garett Wilson, Carlisle, Iowa
9. (10) 00 Tristan Vesterby, Webster City, Iowa
10. (1) 45H Jason Hickingbottom, Duncombe, Iowa
11. (7) 8X Scott Olson, Blairsburg, Iowa
DNS – 2 Jerid Ratzke, Williams, Iowa
AMERICAN RACER USRA STOCK CARS
Heat:
1. (3) 11 Jake Masters, Graettinger, Iowa
2. (1) 35 Bill Crimmins, Fort Dodge, Iowa
3. (2) 22D Jeff Deal, Fort Dodge, Iowa
4. (5) 43 Calvin Lange, Humboldt, Iowa
5. (4) 87 Travis Shipman, Mason City, Iowa
6. (7) 59 Jeff Lyon, Duncombe, Iowa
7. (6) 3K Kent Knopf, Granger, Iowa
Feature:
1. (3) 11 Jake Masters, Graettinger, Iowa
2. (2) 35 Bill Crimmins, Fort Dodge, Iowa
3. (5) 87 Travis Shipman, Mason City, Iowa
4. (4) 43 Calvin Lange, Humboldt, Iowa
5. (6) 59 Jeff Lyon, Duncombe, Iowa
6. (1) 22D Jeff Deal, Fort Dodge, Iowa
DNS – 3K Kent Knopf, Granger, Iowa
USRA B-MODS
Heat #1:
1. (1) 99 Rocky Caudle, Ellsworth, Iowa
2. (3) 75S Cole Suckow, Cresco, Iowa
3. (2) 1 Doug McCollough, Webster City, Iowa
4. (5) 7+ Jared Timmerman, Norwalk, Iowa
5. (4) 25P Justin Patterson, Fort Dodge, Iowa
6. (6) T16 Taylor Elliott, Webster City, Iowa
Heat #2:
1. (5) 56 Ty Griffith, Webster City, Iowa
2. (4) 4 Jason Bass, Fort Dodge, Iowa
3. (2) 511 Matt Grall, Fort Dodge, Iowa
4. (3) 40 George Gilliland, Lehigh, Iowa
5. (6) 13 Lucus Jones, Fort Dodge, Iowa
6. (1) 18K Donovan Kennebeck, Lytton, Iowa
Heat #3:
1. (1) 66 Levi Chipp, Latimer, Iowa
2. (4) 9J Jeremiah Reed, Otho, Iowa
3. (5) 32S Bryce Summers, Eagle Grove, Iowa
4. (3) 56X Kyle Webb, Des Moines, Iowa
5. (2) 98R Kendall Zuetlau, Fort Dodge, Iowa
Feature:
1. (3) 99 Rocky Caudle, Ellsworth, Iowa
2. (12) 56 Ty Griffith, Webster City, Iowa
3. (2) 4 Jason Bass, Fort Dodge, Iowa
4. (7) 66 Levi Chipp, Latimer, Iowa
5. (9) 7+ Jared Timmerman, Norwalk, Iowa
6. (1) 9J Jeremiah Reed, Otho, Iowa
7. (5) 1 Doug McCollough, Webster City, Iowa
8. (4) 75S Cole Suckow, Cresco, Iowa
9. (8) 56X Kyle Webb, Des Moines, Iowa
10. (11) 511 Matt Grall, Fort Dodge, Iowa
11. (14) 13 Lucus Jones, Fort Dodge, Iowa
12. (10) 40 George Gilliland, Lehigh, Iowa
13. (13) 25P Justin Patterson, Fort Dodge, Iowa
14. (6) 32S Bryce Summers, Eagle Grove, Iowa
15. (17) 18K Donovan Kennebeck, Lytton, Iowa
16. (15) 98R Kendall Zuetlau, Fort Dodge, Iowa
17. (16) T16 Taylor Elliott, Webster City, Iowa
PICKETT SALVAGE USRA HOBBY STOCKS
Heat #1:
1. (1) 50 Bryce Sommerfeld, Fort Dodge, Iowa
2. (6) 7B Eric Stanton, Carlisle, Iowa
3. (3) 4D Daniel Ayers, Webster City, Iowa
4. (2) 10A John Ades, Rippey, Iowa
5. (7) 10 Danny Sassman Jr., Fort Dodge, Iowa
6. (4) 55G David Gilliland, Fort Dodge, Iowa
7. (8) 10X Dylan Ades, Rippey, Iowa
8. (5) 56G Bradley Gilliland, Lehigh, Iowa
Heat #2:
1. (1) 12K Eric Knutson, Slater, Iowa
2. (3) 15 Jeremy Crimmins, Fort Dodge, Iowa
3. (6) 45 Drew Barglof, Sioux Rapids, Iowa
4. (4) 42T Tyson Overton, Carlisle, Iowa
5. (5) 35 Riley Crimmins, Fort Dodge, Iowa
6. (8) 8 Adam Tiernan, Granger, Iowa
7. (2) 14 Joseph DeBoer, Fort Dodge, Iowa
8. (7) 43A Andy Williams, Fort Dodge, Iowa
Feature:
1. (8) 7B Eric Stanton, Carlisle, Iowa
2. (2) 4D Daniel Ayers, Webster City, Iowa
3. (3) 45 Drew Barglof, Sioux Rapids, Iowa
4. (5) 42T Tyson Overton, Carlisle, Iowa
5. (1) 10A John Ades, Rippey, Iowa
6. (6) 50 Bryce Sommerfeld, Fort Dodge, Iowa
7. (7) 12K Eric Knutson, Slater, Iowa
8. (9) 10 Danny Sassman Jr., Fort Dodge, Iowa
9. (10) 35 Riley Crimmins, Fort Dodge, Iowa
10. (12) 8 Adam Tiernan, Granger, Iowa
11. (11) 55G David Gilliland, Fort Dodge, Iowa
12. (15) 10X Dylan Ades, Rippey, Iowa
13. (14) 56G Bradley Gilliland, Lehigh, Iowa
14. (13) 14 Joseph DeBoer, Fort Dodge, Iowa
15. (4) 15 Jeremy Crimmins, Fort Dodge, Iowa
DNS – 43A Andy Williams, Fort Dodge, Iowa
USRA TUNERS
Heat:
1. (3) 37 Ryan Bryant, Mason City, Iowa
2. (2) 02 John Gill, Marshalltown, Iowa
3. (5) 43 Jade Lange, Humboldt, Iowa
4. (7) 41 Matt Oberhelman, Fort Dodge, Iowa
5. (9) 88 Bruce Hower, Indianola, Iowa
6. (4) 38 Des Sells, Fort Dodge, Iowa
7. (1) 45 John Dahlsten, Pomeroy, Iowa
8. (6) 54 Josh Dahlsten, Pomeroy, Iowa
9. (8) 230 Michael Heun, Manson, Iowa
Feature:
1. (4) 37 Ryan Bryant, Mason City, Iowa
2. (3) 43 Jade Lange, Humboldt, Iowa
3. (2) 41 Matt Oberhelman, Fort Dodge, Iowa
4. (1) 02 John Gill, Marshalltown, Iowa
5. (9) 230 Michael Heun, Manson, Iowa
6. (5) 88 Bruce Hower, Indianola, Iowa
7. (6) 38 Des Sells, Fort Dodge, Iowa
8. (7) 45 John Dahlsten, Pomeroy, Iowa
9. (8) 54 Josh Dahlsten, Pomeroy, Iowa