Racing resumes Friday in Fort Dodge
May 5, 2020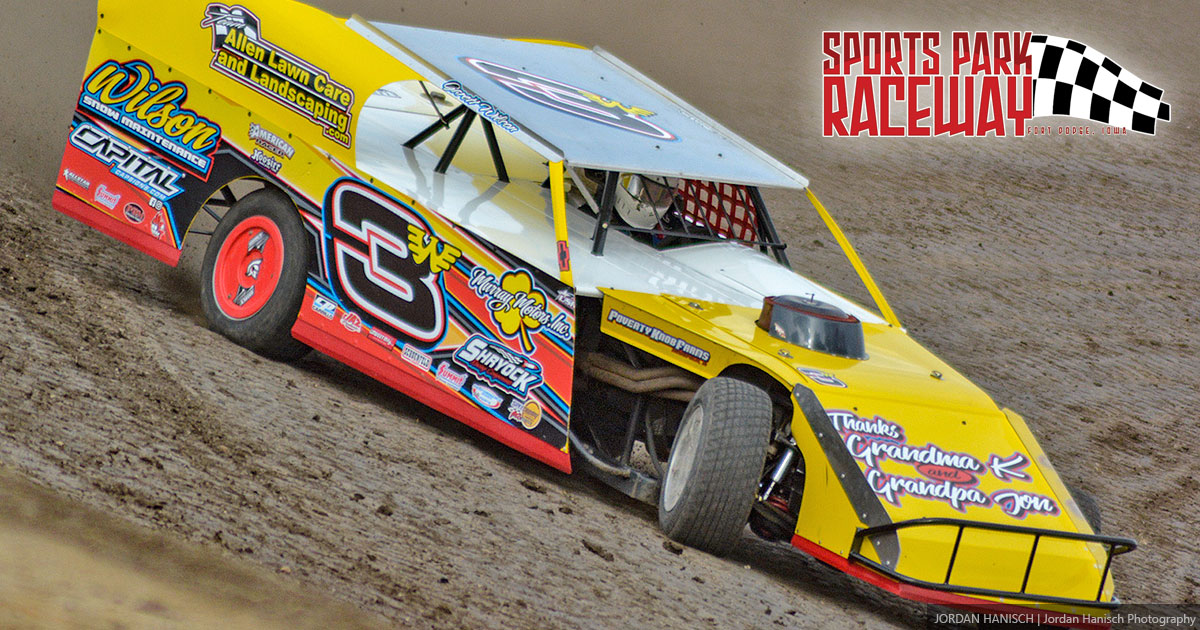 Although the grandstand seats will be empty, the air will be filled the sound of screaming engines this Friday, May 8, when the Sports Park Raceway in Fort Dodge, Iowa, hosts the first night of racing in 2020 and the first event for freshman promoter Andy Jones and his staff.
The season opener will feature the Summit USRA Weekly Racing Series with USRA Modifieds, USRA Stock Cars, USRA B-Mods, Pickett Salvage USRA Hobby Stocks and USRA Tuners.
In accordance with national, state and local ordinances surrounding the COVID-19 pandemic, several rules and guidelines will be enforced and all participants must be aware of those guidelines.
Grandstand seating will be closed this Friday. However, a limited number of personal vehicles will be permitted to park at the top of the grandstands. Each vehicle may have a maximum of ten (10) people and each person must stay with their group and maintain social distancing rules from other groups. The cost is $40 per vehicle.
Alternatively, race fans can watch every lap live from the comfort of their living room with the purchase of a monthly Pit Pass at RacinDirt.TV.
The pit gate will open at 3 p.m. with hot laps at 7 p.m. and racing to follow. The drivers meeting will be held live on the Sports Park Raceway Facebook page at 6:30 p.m.
Modifieds will pay $500 to win while Stock Cars and B-Mods will battle for a $400 top prize in the main event. Hobby Stocks will race for $300 to win and the feature winner gets $150 in the Tuner division.
The entry fee is $30 in each class and includes the pit pass for the driver.
The rules for this event are as follows:
• Each competitor is allowed up to ten (10) crew members including driver. Competitors may enter online now at sportsparkraceway.com/register-may8 until 9 p.m. Thursday night.
• Pit gates will open at 3 p.m. so please show up early as this will not be your usual racing program.
• Pit passes may be purchased at myracepass.com/tickets.
• Each person entering the pits must print and sign the waiver form at usraracing.com/release_waiver. If paying with cash, you must bring exact change.
• The draw will be generated automoatically as competitors register online. All entries after the 9 p.m. deadline Thursday will start in the back of a heat race behind those that entered before that time.
• All competitors must possess a USRA license or a $10 temp license paid at time of registration. You can purchase a USRA license at usraracing.com or bring $10 to the track (exact change) for your temp license.
• USRA track, regional and national points will be awarded in all USRA-sanctioned classes.
• Social distancing measures must be conformed to. Any competitor or other participant failing to follow the posted guidelines will be disqualified from the event and asked to leave. The wearing of a protective face mask is strongly recommended but not required. If you are sick or not feeling well, please stay home.
• Competitors must always keep RACEceivers in to receive instructions and be aware of which races are on the track and what is next.
• All participants are asked to leave the Sports Park Raceway in a timely and orderly fashion immediately at the conclusion of the event. Please do not congregate in groups other than your own.
• Portable toilets will be equipped with hand washing stations.
• The pit concession will be open and equipped with hand washing stations.
• Nobody is permitted to record Facebook Live videos or take photographs. Any person caught doing so will be asked to leave. These rules are in place to minimize social media exposure, so please keep that in mind.
Modifieds, Stock Cars, Hobby Stocks and Tuners will utilize standard USRA rules. B-Mods will use the "alternative" rules which allow for a two-inch spoiler for standard USRA B-Mods.
Casey Skyberg Racing has chipped in $250 for the Modifieds with $100 going to the hard charger in the main event and $50 each to three mystery spots in the finishing order.
The Sports Park Raceway is located 0.9 mile north of US 20 on US 169, then 0.5 mile east on 230th in Fort Dodge, Iowa. If you have any questions, visit SportsParkRaceway.com or email info@sportsparkraceway.com. You can also follow us on Facebook and Twitter.
To learn more about the United States Racing Association, visit USRAracing.com. You can also like us on Facebook, visit us on Instagram, follow us on Twitter and watch us on YouTube. Keep up to speed with everything USRA and subscribe to the USRA e-Newsletter at USRAracing.com/subscribe.